School Profile:
Updated August 2021
Mascot: Rams
Colors: Hunter Green, Navy Blue, and White
Grade Levels Served: 9-12
Four-Year Graduation Rate: 89.8%
Founded: 1997, constructed through a community partnership with Sandoval County and Intel Corporation and through voter-approved property tax levies.
Staff Profile:

Activities Director: Christopher Salas
Athletics Director: Vince Metzgar
Instructional Leaders: Jennifer Miyashiro, Leslie Keeney, Rob Keeney, Sal Gonzales
Employees: 231
Teachers: 147
Instructional Support Staff: 41
Non-Instructional Support Staff: 43
School Goals:
Students will demonstrate high levels of personal and academic achievement.

Students will display personal decency, responsibility, and civility within RRHS and the community.

Students will identify and prepare for future career choices.

Students will successfully complete a four-year high school program.

Students will identify and prepare for future career choices.
School Programs:
Classroom offerings: Audio/Video Production, Abnormal Psychology, Aviation, Astronomy, Aerospace, Forensics, Aerobic Fitness and Body Sculpting, Environmental Science, and others that apply math, science, and physical well-being to the young mind. RRHS also offers a full range of sports, fine arts (band, orchestra, chorus, drama, and dance), and academic extracurricular activities.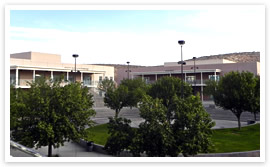 Address: 301 Loma Colorado NE
Rio Rancho, NM 87124
Phone: (505) 896-5600
Fax: (505) 896-5901
Geographic Area Served:
South of Northern Blvd.
Student Profile:
Enrollment: 2,601 (August 2020)
Percent Special Education: 12.4%
Percent English-Language Learners: 2.2%
Percent Free/Reduced Meals: 37.7%
Ethnicity/Race: The percentages for each category are rounded up or down to the nearest .1 which may cause the total to slightly exceed or be below 100%. In addition, families of mixed-race heritage may now also designate their child as being of more than one race. This may cause the percentages to add up to a number that is other than 100%.

African-American: 3.2%
American Indian: 4.5%
Asian: 1.7%
Caucasian (non-Hispanic): 33.4%
Hispanic: 56.6%
Pacific Islander: 0.5%
Unclassified/unknown: 0.1%